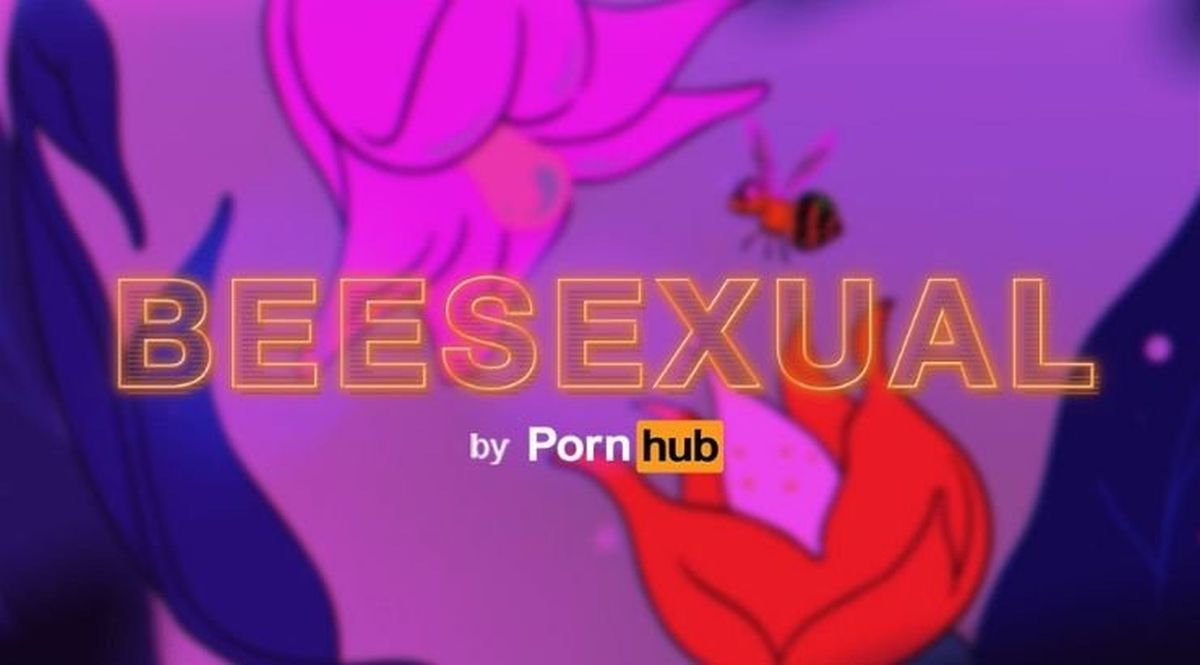 Pornhub, the world's biggest porn video site, has partnered with leading bee conservation charities Operation Honey Bee and The Center for Honeybee Research to launch a surprising initiative to save money for bee preservation.
Pornhub Cares, the philanthropic division of the famous adult site (which has raised money for cancer, domestic violence, and endangered species in the past), recently launched 'BeeSexual' — a new channel full of 'bee porn' (videos of bees getting down and dirty while pollinating flowers).
We are making it our mission to ensure Mother Nature is sexually active! Introducing BEESEXUAL. A new genre of porn dedicated to saving bees. https://t.co/P6utCKmi3R pic.twitter.com/7CnUc9vCvH

— Pornhub ARIA (@Pornhub) April 16, 2019
While browsing the adult content, BeeSexual allows users the opportunity to save the bees. For each view of a BeeSexual video, Pornhub will donate to Operation Honey Bee and the Center for Honeybee Research to help them in their bee conservation efforts to replenish bee populations, which have been in a dangerous decline for years.
"Bees play a major part in making our food. The most important thing that bees do is pollinate. Pollination is needed for plants to reproduce, and so many plants depend on bees as pollinators. Unfortunately, however, bees are facing a precarious situation and struggling for survival," said Corey Price, VP, Pornhub. "With over 110 million daily visitors, we thought our users could come together to lend a helping hand and help conserve this precious species. It's our duty to ensure bees continue to fornicate and pollinate."
In a video posted to Pornhub's YouTube introducing BeeSexual, a narrator explains:
"Most plants and trees rely on bees to have sex and breed. But sadly, bees are dying off and without them, it's lights out for nature's sex life and no more fruits and vegetables for us. Pornhub presents BeeSexual. BeeSexual is a whole new genre of porn, dedicated to saving the bees. We turn short videos of foraging bees into what they really are—funny, kinky, nature porn."
To ensure that the users don't view them as boring nature clips, videos of foraging bees include voiceovers by adult entertainment stars to give it a slightly more Pornhub feel. An announcement on the Pornhub website read:
"We created Beesexual: a whole new genre of porn especially dedicated to saving bees. We turned short videos of foraging bees into what they really are: nature porn, but now featuring the voices of some of your favorite porn stars. For each view of one of our videos on the Beesexual channel, we will donate to bee saving charities across the world."
— the proper norseman (@thepropercommie) April 16, 2019
Bees are dying at an alarming rate and it's scary to think that it'll destroy the balance of nature. More than 700 North American bee species are headed toward extinction. This is caused by habitat loss, increased pesticide uses, and deforestation. Over $235 billion worth of annual food production relies heavily on the contribution of bees.
"Without bees helping plants get it on, the world as we know it wouldn't exist. Their sex LITERALLY saves humanity. If you ask me that makes for porn worth watching," Creative director David Martin Angelus noted.