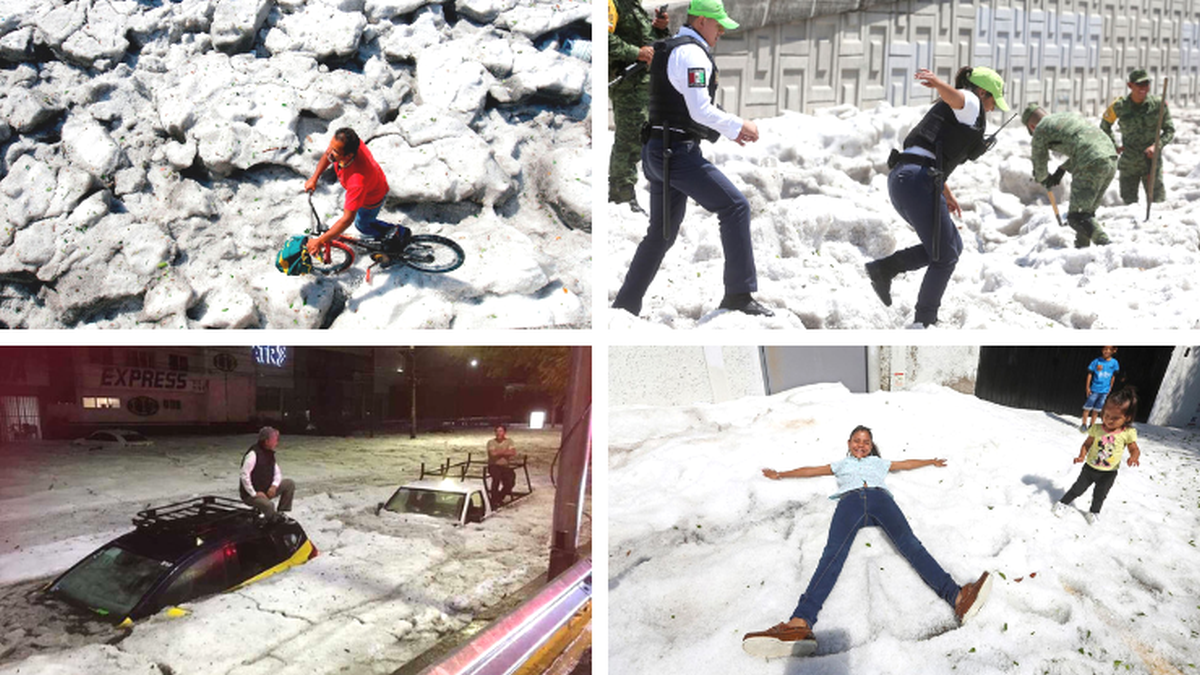 A freak hailstorm – in the middle of a typical warm summer – covered streets, buildings, and vehicles in Guadalajara, Mexico's second largest city, with 5 feet of ice. Though there were no reported injuries or fatalities and civil protection machinery was deployed to clear streets in the city of five million, 200 homes were damaged and dozens of vehicles were swept away by the deluge of ice in hilly areas.
My dad sent me these photos of Guadalajara , Mexico. 3 feet of hail, he says. Unbelievable! pic.twitter.com/0IinwGvKWB

— Parker Branton (@ParkerBranton) July 1, 2019
Enrique Alfaro Ramirez, governor of Jalisco, the western Mexican state in which Guadalajara is located, tweeted images in the storm's aftermath, saying: "I've never seen such scenes in Guadalajara. Then we ask ourselves if climate change is real. These are never-before-seen natural phenomenon. It's incredible."
En coordinación con el Ejército Mexicano y autoridades municipales de Guadalajara y Tlaquepaque, el Gobierno de Jalisco trabaja en la limpieza y remoción de granizo en la vía pública, así como en el apoyo a la ciudadanía que sufrió afectaciones en sus viviendas. pic.twitter.com/4q1zgPXys2

— Enrique Alfaro (@EnriqueAlfaroR) June 30, 2019
What caused the massive hailstorm? The BBC explains:
"In warmer parts of the year, such as in Guadalajara which has maximum temperatures of around 31-32C in June, more moisture is available, contributing to the formation of hailstorms.  Temperatures this month have been higher than normal with Torreon, to the north of Guadalajara, reaching highs of 37C.
"The hail probably melted on contact due to the high temperatures forming a layer of water upon which more hail could land and float. This combination of water and hail likely moved down slope, with obstacles such as buildings blocking the flow and allowing more ice to accumulate on top."
According to CNN meteorologist Michael Guy:
"Low pressure extending south from the US and Mexico border had been forecast to contribute to developing storms along the boundary separating different air masses. Once these storms developed, all the ingredients came together for there to be this strange hailstorm over Guadalajara. The city is nearly 5,000 feet above sea level and usually maintains a temperate climate. The summer months are often rainy and severe weather isn't unheard of, because of the city's elevation. However, this was a case where atmospheric and topographic ingredients came into play to cause a freakish hail storm."
Shocking videos and photos were posted across social media throughout the day on Sunday.
This is what it looks like this morning in neighborhoods I used to visit frequently in Guadalajara, Mexico after an intense hail storm last night. pic.twitter.com/iGGRBFCIB6

— Nick Johnson (@nicoryanj) June 30, 2019
Hail 1 meter thick in Mexico. This is unheard of, and the city of Guadalajara is suddenly having to deal with snow removal. #ClimateEmergency https://t.co/26urpYnadX pic.twitter.com/4hd1BhB8i8

— André Staltz (@andrestaltz) July 1, 2019
Vehicles buried in hail are seen in the streets in the eastern area of Guadalajara, Jalisco state, Mexico, on June 30, 2019. The accumulation of hail in the streets of Guadalajara buried vehicles and damaged homes.
? @35mmfotografia pic.twitter.com/Fwu6yEskzr

— AFPMexico (@AFPMexico) July 1, 2019
WOW!!! Another capture of the #hail accumulations with the severe #hailstorm in Guadalajara, #Mexico this morning 30th of June! Photo ?: Abel Barragán #severeweather #ExtremeWeather pic.twitter.com/7LzXr4fn11

— WEATHER/ METEO WORLD (@StormchaserUKEU) June 30, 2019
People walk in Guadalajara, Mexico after a hail storm buried vehicles and damaged buildings
? @35mmfotografia pic.twitter.com/kZpv4yWTir

— AFP news agency (@AFP) June 30, 2019
A woman and her dogs walk on hail in the eastern area of Guadalajara, Jalisco state, Mexico, on June 30, 2019. The accumulation of hail in the streets of Guadalajara buried vehicles and damaged homes.
? @35mmfotografia pic.twitter.com/pvJFasUKdh

— AFPMexico (@AFPMexico) July 1, 2019
VIDEO: ?? A freak hail storm struck #Guadalajara, one of Mexico's most populous cities, late on Sunday, shocking residents and trapping vehicles in a deluge of ice pellets up to two meters (yards) deep. pic.twitter.com/CXxIxxfik3

— AFP news agency (@AFP) July 1, 2019