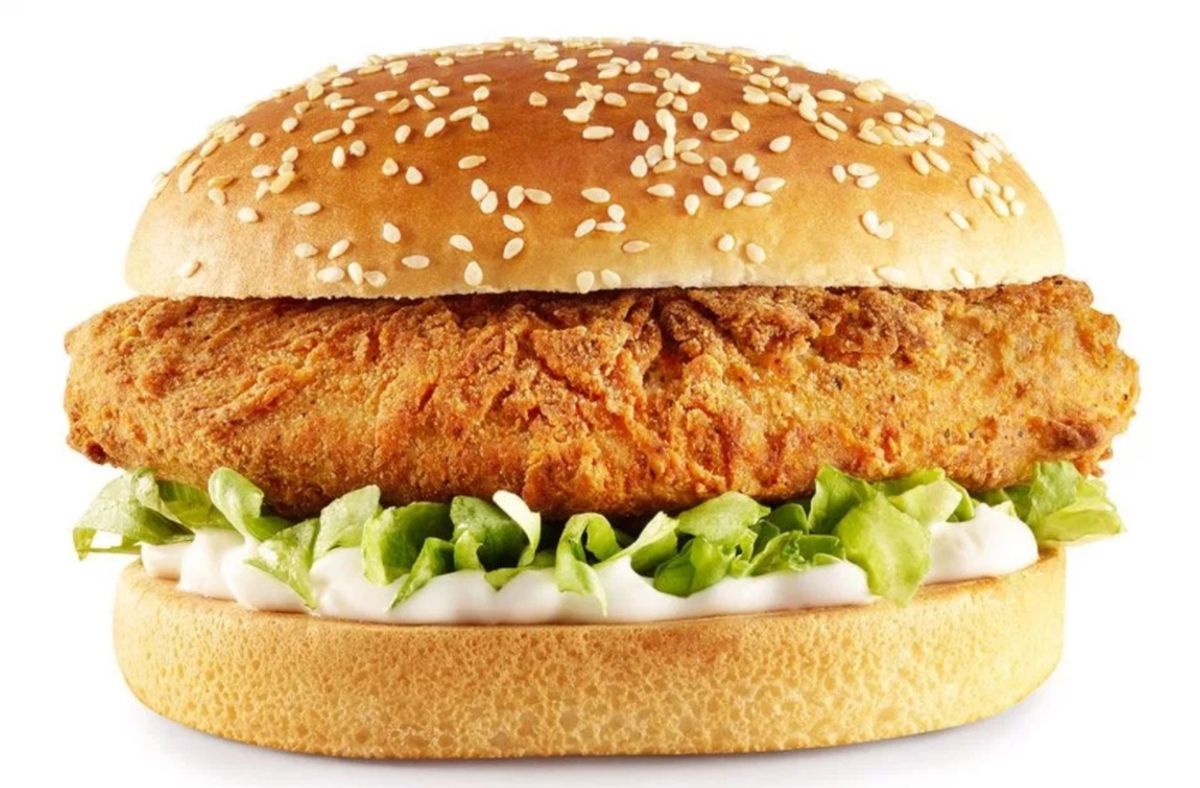 Jumping on the meat-free plant-based bandwagon, fast food giant KFC has launched a vegan version of its signature crispy chicken burger in the UK. The burger, called "The Imposter", uses a Quorn fillet coated in KFC's Original Recipe herbs and spices, lettuce, and vegan mayo in a soft-glazed bun. The burger, a first for the American fast food chain, will be sold in select KFC restaurants in London, Bristol, and the Midlands for four weeks starting June 17.
According to KFC, the Imposter Burger has 450 calories, practically the same as the chicken equivalent at 475 calories.  The Imposter Burger contains 18.8g protein, while its chicken counterpart contains 29.7g protein. At £2.99, the vegan burger is cheaper than its chicken alternative, which costs £3.99.
KFC joins Gregg's and its vegan sausage roll in using the widely available mycoprotein, with both companies calling their product 'bespoke'. It is also the latest in a series of fast food chains trying to capitalize on the public's growing appetite for meat alternatives.
After launching a meatless burger in Germany in May, McDonald's is trialling vegan chicken McNuggets in Norway. Burger King recently announced that they were expanding distribution of their popular meat-free burger Impossible Whopper to 100 locations in the San Francisco Bay Area.
Since Quorn is a meat substitute that gets its protein content from a fermented fungus, KFC describes the burger as "a triumph of deception" and claims it "delivers on taste, crunch and succulence".
"We know… it's unfair. Vegans have been cruelly denied the incredible taste of KFC up to now, which is why we've worked hard to perfect The Imposter – a vegan burger that the Colonel would be proud of," Victoria Robertson, chief vegetable enthusiast at KFC UK & Ireland, said in a statement sent to Plant Based News.
"A vegan KFC? We couldn't believe it either. But we've done it – working with KFC we've created a bespoke Quorn fillet that does the Colonel's recipe justice. We have no doubt that KFC fans are going to love the modern take on a finger lickin' favorite," added Tony Davison, head of Global Foodservice & QSR at Quorn.
Dawn Carr, director of Vegan Corporate Projects at PETA, described the burger as 'game-changing':
"We've been so excited to hear about this and play a part in KFC's journey to reaching this game-changing new vegan range. We're confident it will be a huge hit with the skyrocketing numbers of vegans, vegetarians, and flexitarians around the UK. Clucking marvelous!"
Is it planet or profit behind the latest KFC offering?
In October 2018, World Animal Protection revealed that KFC sources its chickens from factory farms that are cramped, barren warehouses, and often devoid of natural light wherein most chickens are grown unnaturally fast and slaughtered at just 40 days. Recently, PETA documented unimaginable cruelty to chickens during two investigations inside KFC supplier Tyson Foods' slaughterhouses in Georgia and Tennessee.
Globally, the retail market for meat substitutes – as consumers look for meat alternatives to diversify their diets or reduce their environmental footprint – could grow from about $18.7 billion in 2018 to $23 billion in 2023.
UPDATE: KFC officially sold out the Imposter Burger in just four days of its launch. Sales of the new burger was 500% higher than that of a regular burger. Speaking about the unprecedented demand for the burger, Robertson said:
"We knew there were plenty of people who would want to get a taste of the Imposter, but we didn't anticipate this phenomenal response! We can't wait to get the Imposter back out in restaurants so vegans can get their finger lickin' fix."
The Imposter Burger is ve-gone (…for now)

It's been a real hit and we've sold out. But don't worry, it'll be back 2nd July. Stand by – only 11 sleeps. pic.twitter.com/n1RjEPTllS

— KFC UK & Ireland (@KFC_UKI) June 21, 2019