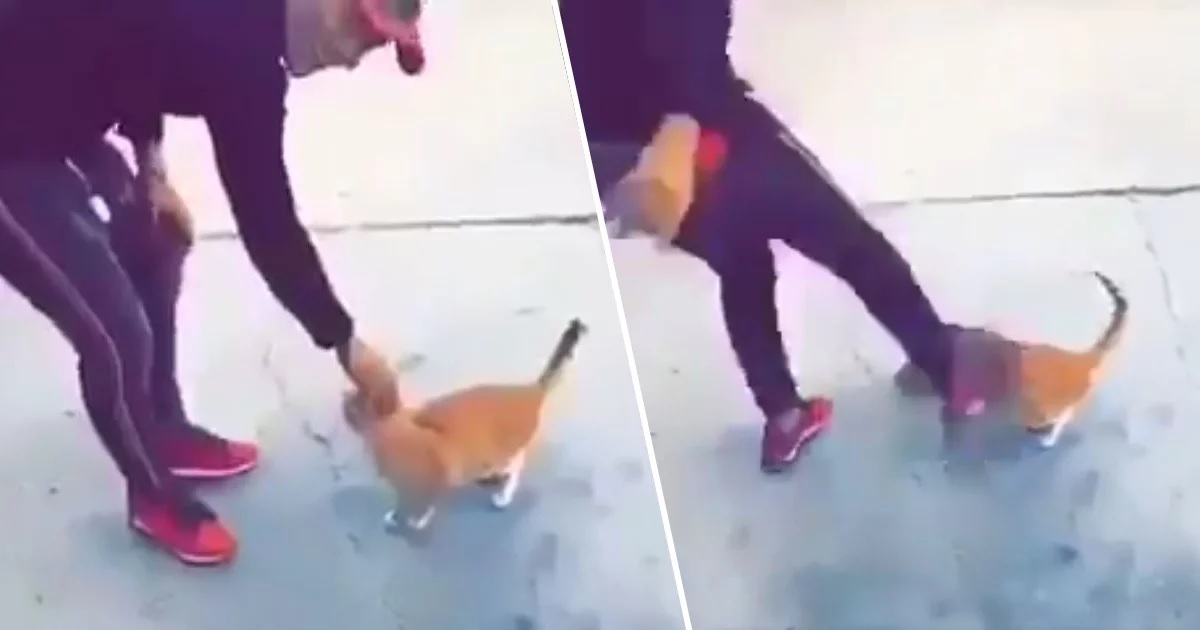 Shocking video of a cat being brutally kicked has gone viral on social media prompting the authorities to search for the man behind the heinous act.
The horrific video shows a UK man luring a ginger cat over to him. As soon as the animal responds to his 'friendly' gesture, he draws his leg back and kicked it as hard as he could, sending it flying through the air. The man is seen laughing hysterically after carrying out the inhumane attack.
The video was shared by the Protect All Wildlife Twitter account:
Please RT.

Let's find this oxygen thief!!!! pic.twitter.com/E2V6aN3WYe

— PROTECT ALL WILDLIFE (@Protect_Wldlife) May 25, 2019

The Royal Society for the Prevention of Cruelty to Animals (RSPCA) responded to the horrific video with this tweet:
Thanks for tagging us – this has been reported and will be looked into. If you have further information regarding this please report to us on 0300 1234 999 – thanks

— RSPCA (England & Wales) (@RSPCA_official) May 25, 2019
A spokesperson for the RSPCA told MailOnline: 'We are aware of the clip being circulated on social media and encourage anyone with information to contact us on 0300 1234 999.'
While the general public is sharing their shock at the barbaric act believed to be filmed in the name of social media likes…
I hope he will be found and then kicked like this for several hours. Such a shame for mankind.

— Michael Depping (@Crosspanda66) May 25, 2019
I can't unsee this & it's made me feel sick to my stomach- I hope this gets retweeted by everyone & the guy & his videoer get the kicking they deserves 😡😡😡

— Scott Beszick (@scottbeswick) May 25, 2019
Break his arms and legs and feed him to lions

— Paoloski (@paolorberni) May 25, 2019
I was completely unprepared and my heart is still hurting😕

— Billma (@billamaria93) May 25, 2019
…celebrities are commenting on the video in a hope to find the culprit:
I can't decide the best punishment for this dirty cunt. https://t.co/RvFez22ZrL

— Ricky Gervais (@rickygervais) May 25, 2019
I would give my left nut to be able to personally fuck this guy up.

— Ned Balme (@NedBalmeLives) May 25, 2019
Someone out there knows who this twat is…. surely you HAVE to go and kick the little prick in the face like he has kicked this cat…?!

— Daniel Osborne (@DannyO) May 26, 2019
What an absolute Prick!!!! 😡😡 Sincerely hope him and his little video mate are found and have the same done to them. In fact, I'd happily pay to do it to them myself!

— Gemma Atkinson (@MissGAtkinson) May 25, 2019
This is not the first time a helpless animal has been thrashed brutally for fun. A few months ago, a UK teen filmed a video of him laughing maniacally as he tossed a dog off a cliff into the water below.
Laughing scumbag threw scared dog over a cliff into the sea as friend filmed on……bit.ly/2GY6fjt

Posted by Eamon Goan on Friday, May 3, 2019