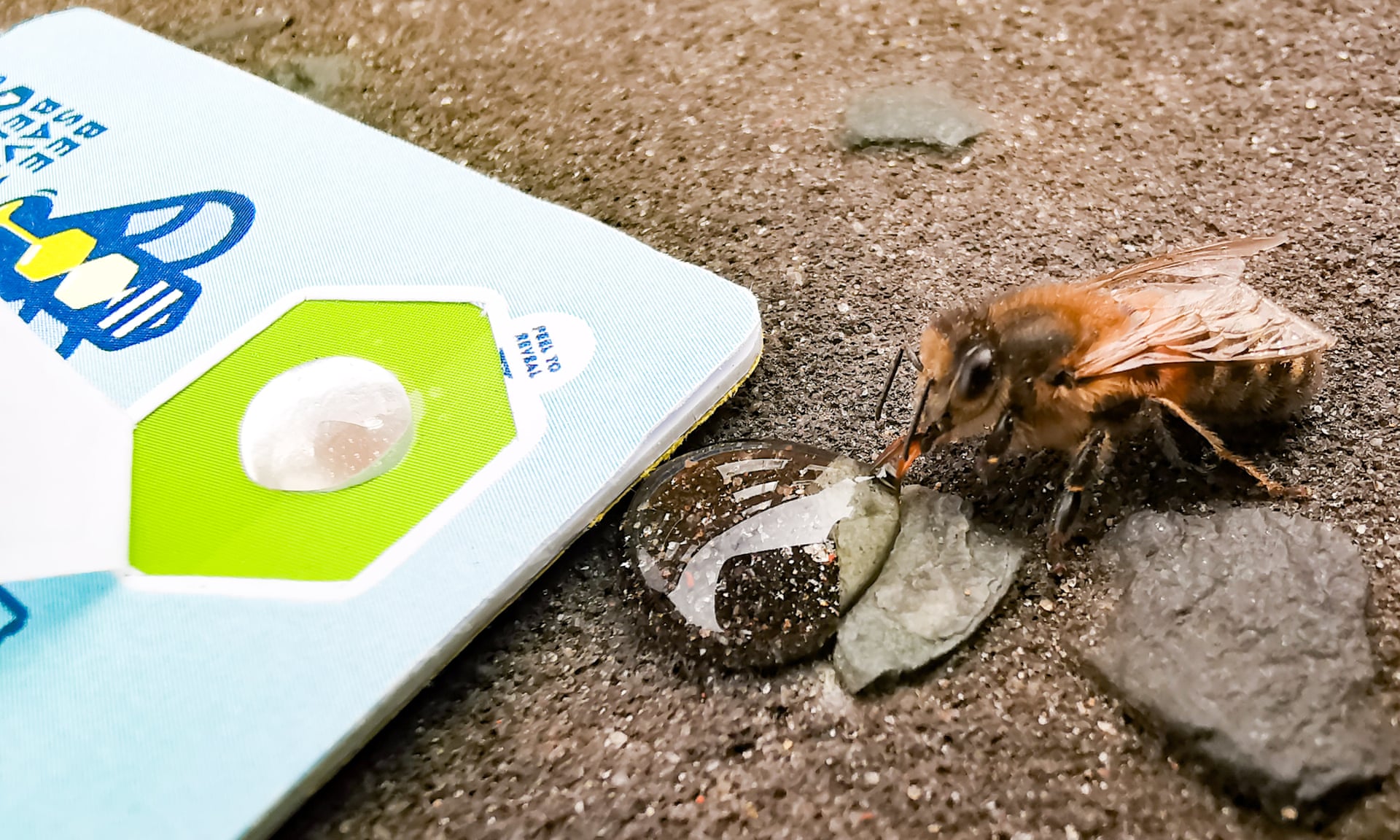 Dan Harris, 40, a Norwich-based inventor, has created the Bee Savior Cards aimed at saving starving bees crawling on the sidewalk.
The ingenious little device, which you can carry in your wallet, is made from old credit cards and contains three refillable sachets of sugar solution that act as a life-saving snack for pollinators.
Dan came up with the idea after learning about bees' high metabolism and high work rate. According to professor Dave Goulson, founder of the Bumblebee Conservation Trust, bees have such high metabolism that even with a stomach full of nectar they can be just 40 minutes away from starvation. Dan writes:
"A bumblebee has such a fast metabolism (a bit like a city) that it can starve in 45 minutes without food… what's more we have the power to revive them with a tiny drop of sugar solution. When we discovered these two facts about bees it felt almost impossible to ignore the invitation for connection that they seemed to offer."
As per reports, one-third of the UK's bee population has disappeared over the past decade, while 24% Europe's bumblebees are now threatened with extinction. The Bee Savior Cards, Dan is hoping, will act as a lifeline for exhausted bees.
"When we heard about bees getting so exhausted so quickly, the fact that we can revive them with sugar solution just struck us as a really great opportunity to connect with nature – especially in a city," Dan told Radio 1 Newsbeat.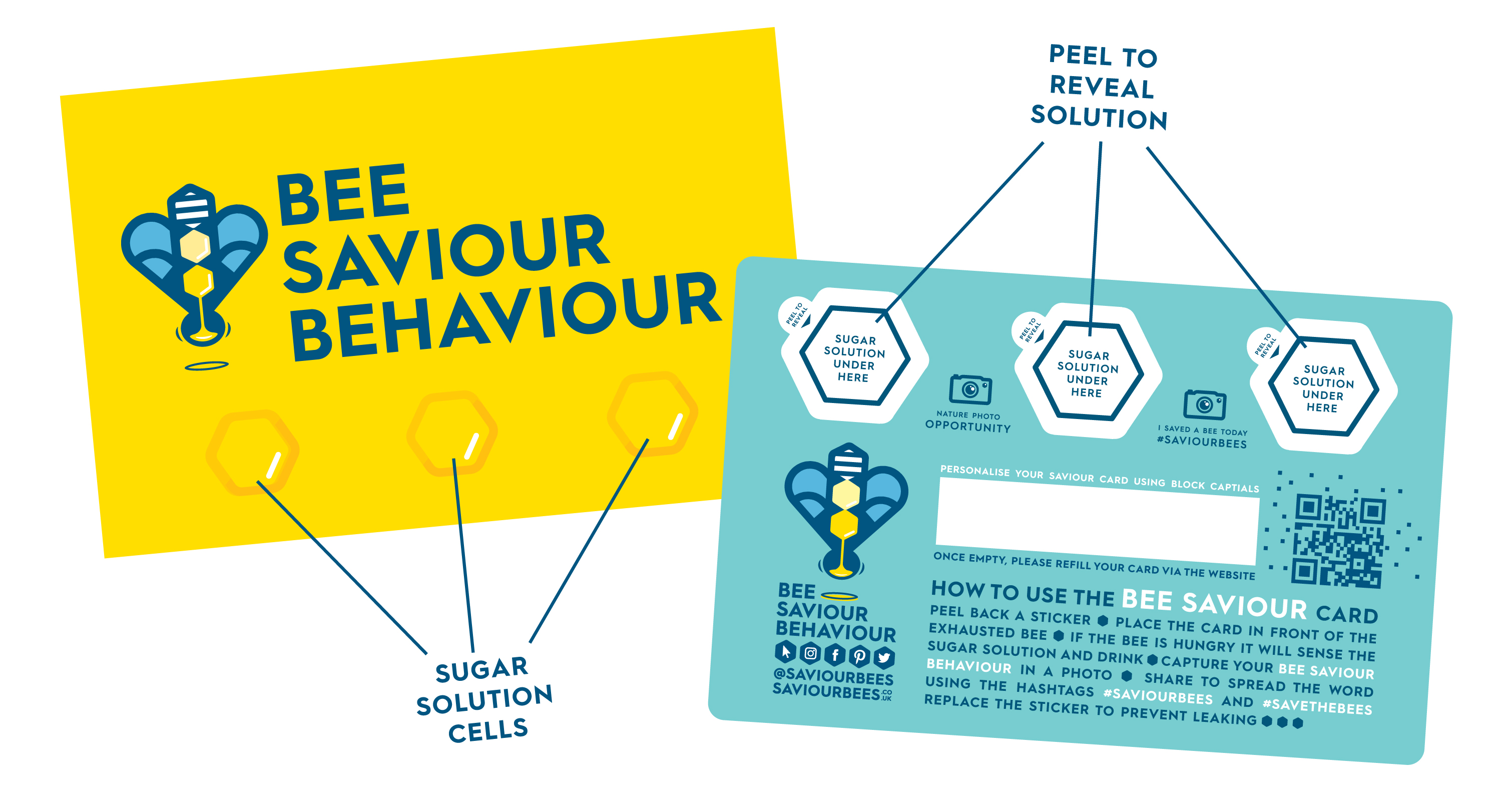 Each card contains three indentations containing a beekeepers' formula, secured by foil-backed stickers which you can simply peel off and offer it up as a quick energy boost to a struggling bee.
"The first time you peel back the sticker and put the card down next to the bee, you think, what's going to happen? When I first tested it, the bee walked calmly onto the card and started feeding. It struck me that everyone who walks around a city will have walked past an exhausted bee. That means you've also walked past an opportunity to connect with nature," Dan told the Guadian.
Having recently hit his crowdfunding target of £18,000, Dan hopes to have the £4 cards on sale from July. Richard Horne, an illustrator who designed the cards free of charge, added:
"I've tried reviving bees using sugar and water on a spoon and it's never worked. After we got the prototype, me and the kids found a bee that was struggling and they said, 'Dad! Get the card!' I fetched my wallet and the card worked a treat. I think it's a genius idea."
However, Buglife, one of the UK's leading insect charities, doesn't recommend giving sugar solution to bees. In fact, it asserts that sugar solution should always be used as a last resort to help bees that look tired and exhausted as they are only able to give a quick hit.
"People should put tired bees onto flowers, where they may be able to find nectar which, unlike sugar solution, contains nutrients they need. Sugar offers no nutrients to bees or humans, and a lack of protein can even lead to bees eating their own eggs to keep themselves going."
But Dan argues that the cards are designed to be used in warm urban areas where there may not be as much greenery or if the flowers have already been drained by other pollinators.