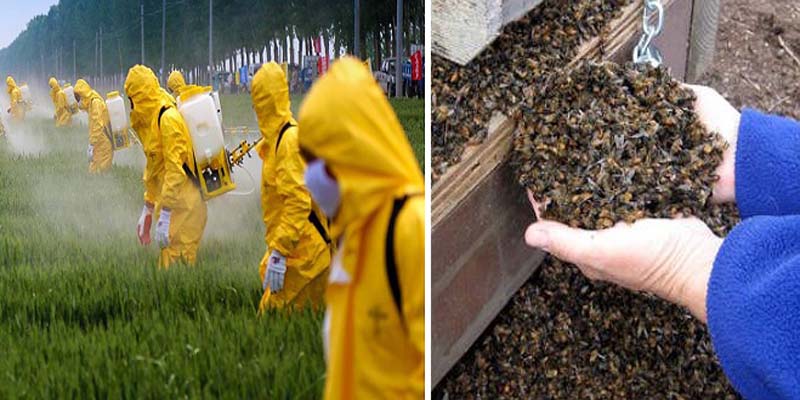 While regulators in other regions of the world have recently worked to ban bee-poisoning pesticides called neonicotinoids that scientists have long warned could cause an "ecological armageddon," the Trump administration just reversed an Obama-era policy that had outlawed the use of neonics and genetically modified crops in the nation's wildlife refuges.
"The more we learn about the toxicity of neonics, the more apparent it is that pretty much any plant with nectar or pollen sprayed with these poisons is unsafe for bees."
—Nathan Donley, Center for Biological Diversity
Defenders of Wildlife CEO and president Jamie Rappaport Clark, who served as director of the U.S. Fish and Wildlife Service (FWS) during the Clinton administration, called the move "an insult to our national wildlife refuges and the wildlife that rely on them."
"Industrial agriculture has no place on public lands dedicated to conservation of biological diversity and the protection of our most vulnerable species, including pollinators like bumble bees and monarch butterflies," she added.
The reversal was revealed in an Aug. 2 FWS memo signed by the agency's acting director, Gregory Sheehan, and posted online by Clark's group. Sheehan withdrew the 2014 memo that established a universal ban—which had been praised as "a national victory nearly ten years in the making"—and introduced a new policy: Refuge managers and federal officials will now consider the use of genetically modified crops and neonics on a "case-by-case basis."
Sheehan claimed that although "in some cases the phasing out of those practices was appropriate and expedient," the sweeping ban "does not provide the on-the-ground latitude for refuge managers to work adaptively and make field level decisions about the best matter to fulfill the purposes of the refuge."
Released just ahead of this policy change, a new analysis by California's Department of Pesticide Regulation bolstered a growing mountain of research that has determined common neonics are harmful to bees and other pollinators.
"The more we learn about the toxicity of neonics, the more apparent it is that pretty much any plant with nectar or pollen sprayed with these poisons is unsafe for bees," responded Nathan Donley, a senior scientist with the Center for Biological Diversity. "This important analysis is further proof that it's time to ban all outdoor use of these harmful pesticides on crops."