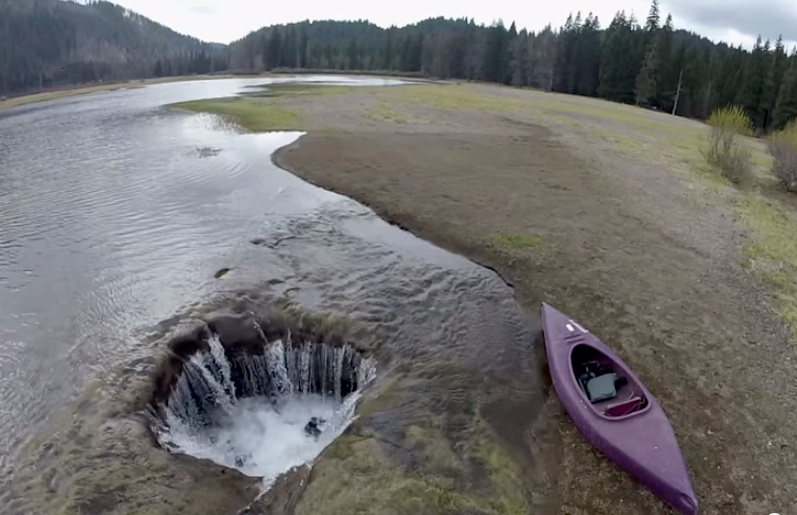 Bye bye, lake. Where it's going, nobody knows for sure.
Just off U.S. Highway 20 in Central Oregon there is a lake with a curious fate. Every winter the aptly-named Lost Lake fills up, before slowly draining through a hole, drying up and making way for a meadow.
The hole has been there as long as anyone can remember, Jude McHugh, spokeswoman with the Willamette National Forest, told The Bulletin. And while the hole may appear to be one of those oddest of mysteries that nobody can quite figure out, the explanation is rather simple. The volcanic landscape of the area gives way to a number of quirky geologic traits – the one responsible for swallowing the lake is a lava tube. The tunnel-like structure is formed when flowing lava hardens near the surface but continues to flow downwards, and the inner lava escapes before hardening. The result, a tube that opens to the surface and leads to the mysterious depths below.
McHugh says it's unclear exactly where the water goes, but it possibly seeps into the porous subsurface underground, refilling the expansive aquifer that feeds springs on both sides of the Cascades.
McHugh said there have been numerous attempts – unauthorized and discouraged – to plug the leak, so to speak. Over the years, workers from the U.S. Forest Service have found car parts, engines and other debris in the hole. Success in those endeavors, however, would only lead to local flooding as the area has been planned with the fickle nature of the ever-disappearing lake in mind.
"If anyone was ever successful at plugging it, which we're not sure they could do, it would just result in the lake flooding, and the road. It's an important part of how the road was designed," she said.
Watch the ground swallowing Lost Lake in the clip below.