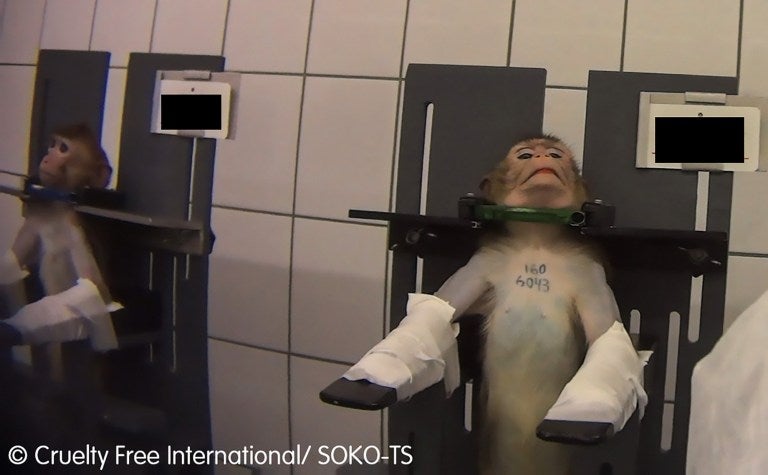 There is no way to sugarcoat what you're about to read. The images are disturbing and the leaked video graphic and gruesome. But it is also the necessary evidence required to shut down the laboratories who insist on animal suffering and torture.
Leaked footage from a German pharmaceutical research lab shows the painful process of torture and death. Monkeys are screaming and cats and dogs are seen bleeding.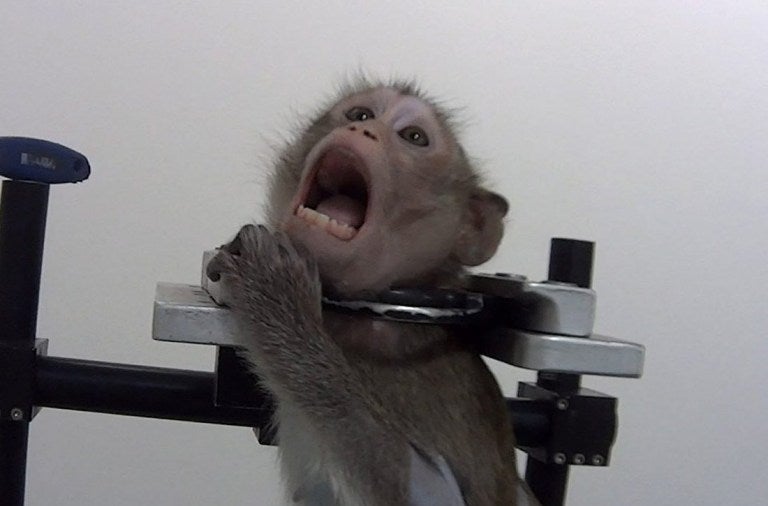 Most of the footage focuses on the monkeys. In the video, their necks are restrained with large metal bars while they await their horrific fate.
Recorded inside the Hamburg Laboratory of Pharmacology and Toxicology (LPT), an animal rights activist infiltrated the German facility as an employee to access and publicize the cruelty you see in the video.
The Soko Tierschutz and Cruelty Free International (CFI) animal rights organizations have claimed responsibility for the undercover activist, but they have not released names for personal safety reasons.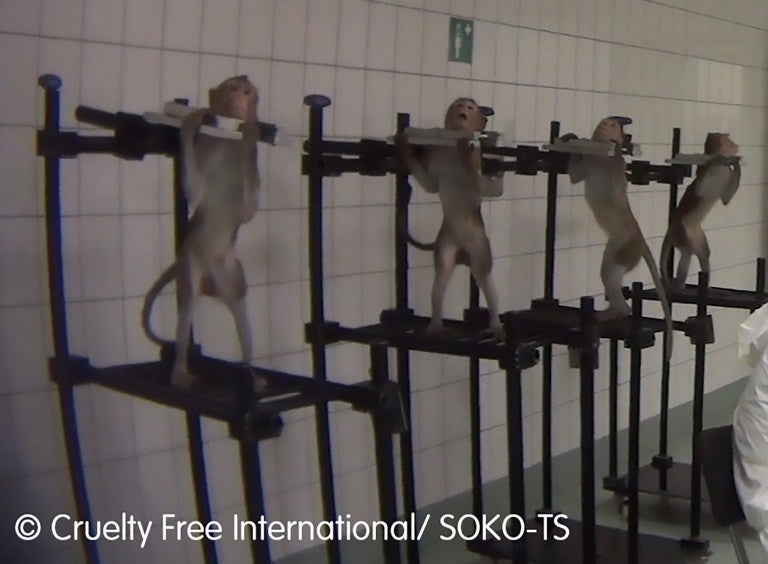 The footage of the appalling conditions shows animals confined to exceedingly small cages when not being 'tested' (tortured) by LPT staff.
"The animals were even still waggling their tails when they were being taken to be killed, the dogs were desperate for human contact," Friedrich Mülln from Soko Tierschutz told The Mirror.
"The worst treatment was kept for the monkeys. The macaques breed of monkeys are small, relatively light primates, which are often used for animal experiments at LPT. They are kept in cramped conditions in small cages. Many of the animals have developed compulsive tendencies and are seen going round in circles."
The eight-minute video was released to the media. For those who cannot stomach watching the clip, it documents a swath of animals being restrained and poisoned by various chemicals and drugs, with some of them screaming in agony.
The undercover "spy" said that animals were forced to eat larger and larger doses of chemicals to measure the effects and determine what was safe for human consumption.
Animals suffered vomiting, organ failure, internal bleeding, and respiratory distress, to name but a few symptoms. For the vast majority, the experiments caused a slow and painful death.
The activist who recorded the cruelty also said that workers at the facility were often violent and antagonistic towards the animals, even when experiments were not being conducted.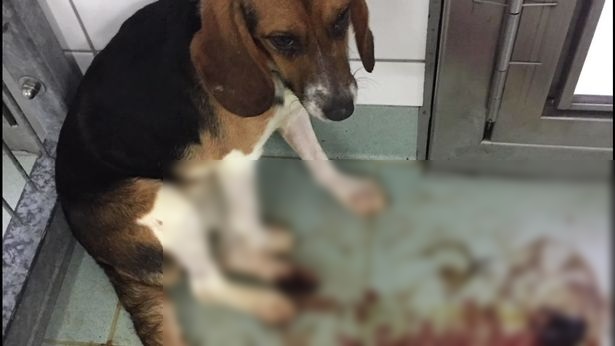 CFI chief executive Michelle Thew said this problem is common in animal testing facilities:
"Our investigation has uncovered appalling animal suffering, inadequate care, poor practices and breaches of European and German law. We are calling for LPT to be closed. We are also calling for a comprehensive review into the use of animals in regulatory toxicity testing in Europe, including the UK. Every investigation, without fail, shows a similar tale of misery and disregard of the law."
A petition has been launched to shut the LPT lab down. So far, over 591,627 signatures have supported the document since its launch on October 11.
Last week, a monkey was caught on film trying to escape a Chinese zoo when it sharpened a rock to smash through its glass enclosure. Unfortunately for the monkey, it never escaped, zoo staff confiscated all "weapons."